About Ruth Tynes
Ruth Tynes (pronounced "tie-ns") is an American Businesswoman and Writer. She serves as the Editor-in-Chief of InTheTimes.com - A Lifestyle Blog for Tween, Teen, and Young Adult Girls.
* GET FREE RuthTynes.com MERCH EVERY MONTH !!! *
Etc. Etc. Etc.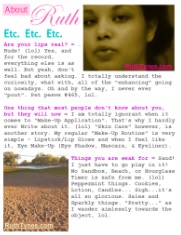 Social Media Profiles



Keywords: ruth tynes, about, biography, history of, photos, photography, pictures, pics, images, interview, magazine interview, website interview, web site interview, blog interview, getting to know, q&a, question and answer, faqs, frequently asked questions, survey, questionnaire, trivia, favorites, favs, this or that, social media, social media profile, socials



Copyright 1996-2019. All rights reserved.